I got back in the early hours of this morning from a long weekend in Waterford, 'visiting Lyn's family'
.
Usually when I head to Ireland hoping to tempt a Bass, the weather resembles a scene from 'The Perfect Storm', but this time I had surprisingly mild & settled weather. I arrived early on Thursday morning, and the plan was to head to Lyn's Auntie's house, have a full Irish, & then head out with my rod. However, having spoken to Pat Connolly, and arranged to meet him, there was no time for a full Irish. So it was a 'quick' drive over from Rosslare
, drop Lyn & Luke off, show my face, and head off to meet Pat !! Luckily though, Lyn's Auntie had made me some lovely fresh 'White Pudding Sandwiches' to pop into my back-pack.
It was wonderful to meet up with Pat again, and we enjoyed a catch-up on the 30min walk to the first mark. We howled laughing as he recounted the tales of his two recent 'doubles', and we also met a mad old woman & her dogs along the path. We arrived at the first mark, and could see a couple of other familiar looking anglers just another 100yds further along. Pat & I waded out & got straight to it. The cold trickle into my waders reminded me that I really must find that hole, or buy a new pair. There was nothing doing, so we headed around the corner, and into a channel of 'very fast' moving water. Here we changed to soft plastics, and the tactic was to bounce them down through the current, and hopefully into the path of a waiting Irish Shirley.
After a short while, and no action (although there was a fish landed just up ahead by one of the other guys), my stomach was calling for the White Pudding. So I moved back from the edge, and got stuck into my beautiful sandwich. A swig of water to wash it down, and a refreshing Irish wet mist descending, and it was back into the water . . . I had that wonderful new lease of life you get after you stop for a short break on a fishing trip . . . . I cast upstream . . . bounce . . bounce . . . bounce . . . . BANG!!! FISH ON!!!! YES!!!! Now when I say the current moves fast through this channel, I mean 'FAST', and the fish fight at double their weight!! After a wonderful scrap, and the Injection being bent double, I eventually got her beached . . . . . .
. . . at a shade over 4lbs, it was a great start!! She fell to an Ayu Xlayer.
I fished-on, and moved along the sand bar, wading out and following the receding tide. I came across a smaller sand / gravel bar running across the channel, so decided to bump my Xlayer over it, and into the deeper hole on the other side . .. . bounce. . bounce . . bounce . . . BANG !!! FISH ON!!! This fight felt different though, without the head shaking and runs. I wound the fish up-current, and as one of the lads, James came over to me, we saw that it was a Turbot!!!
At 2lbs, it was a fine fish, and a first for me on soft plastic
. The fish was returned safely, and that was that for me for the morning session.
Later that evening, I decided to try a little HRF session into some deeper water to try and find some Irish Pollock. I managed to find quite a few up to around the 2lb mark . .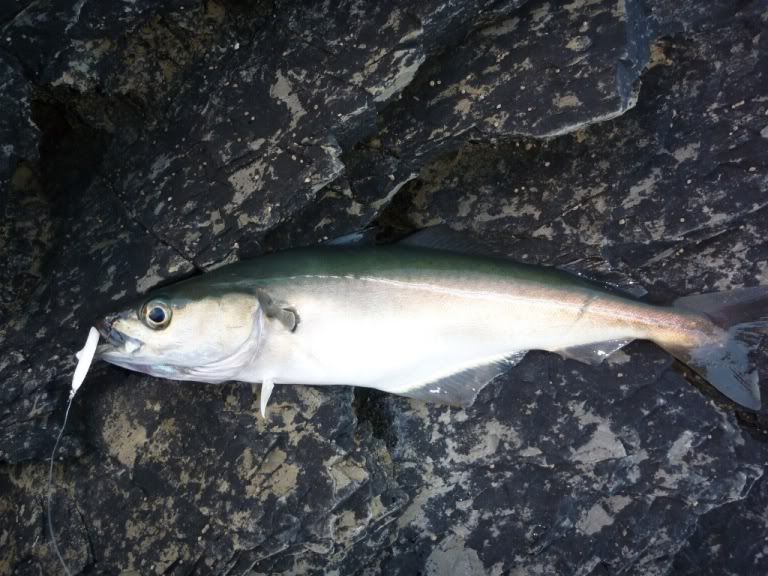 The view across the bay was just stunning that evening, and I was treated to a couple more short Irish showers, although I didn't mind, as it just enhanced the view further . .
Then, just as darkness fell, & I was trying to decide which cast would be my last, as I lifted my soft plastic from the water, a Pollock nailed it at the last moment!!! The first dive was just incredible!! I was holding on to the Injection with both hands, as the fish made a strong dive into the deep water – what a feeling
!! After a couple of runs, I managed to horse her up, and get her ashore. At 5lbs it was a new pb Pollock for me, and I managed to get a pic using the self-timer on my camera . . .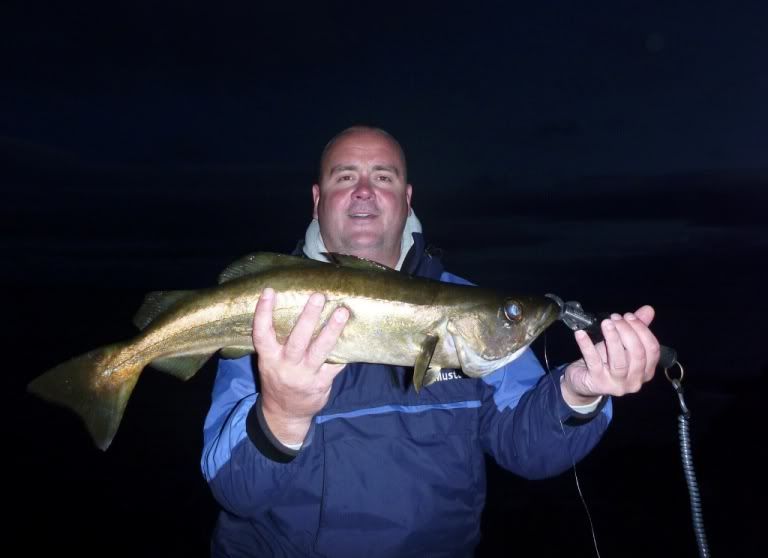 I classed that as a successful evening, and headed off home grinning from ear to ear at a cracking first day
.
The following morning, Luke & I headed off early to fish the ebbing tide. Before leaving the house, as has become customary for him & I out there, we gave Buddha's head & belly a little rub for luck . . .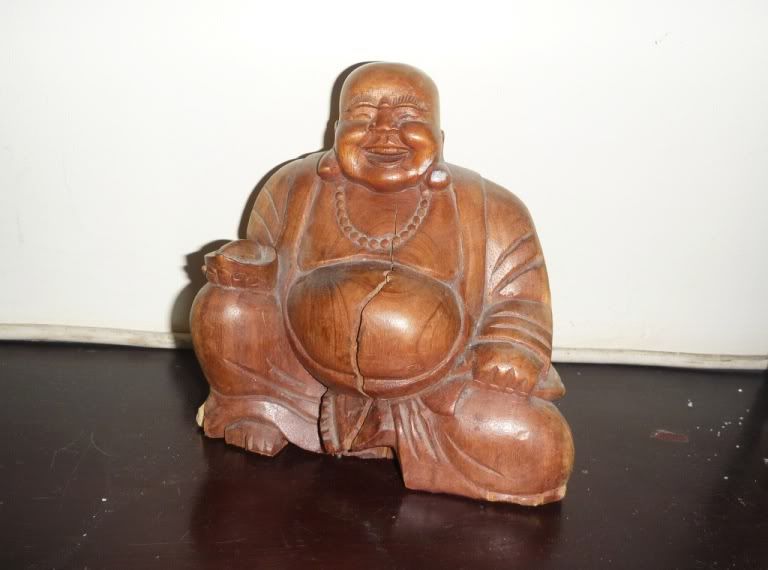 After a 'long' walk :shock:, we eventually came across a beautiful looking back-eddy where the water was getting churned around. Luke was using his Frosty, and I was on soft plastic. Luke cast his lure out across the eddy, and I strolled on another 20yds to make a cast. Then, just behind me I heard an almighty '
BaaaaDooooooshhhhhh'
, I turned around to see the end of the big splash out infront of Luke, and everything went into slow-motion. I looked at Luke, looked at the splash, looked at his rod, looked at Luke, looked at the splash, looked at Luke . . . . . . . . . "FISH ON" he shouted!!! I was doing an 'Usain Bolt' along the shore now, and put my rod down & grabbed the camera. This is what happened next (spot the excited Dad, trying very hard not to swear on camera) . . . .
Here she is . . . a new pb . . . . .
& here she is being returned . . .
Luke rekons that the fish jumped clear of the water, possibly hitting his lure on the way back in !!! He fished on with a certain degree of confidence & satisfaction after that . . .
There were no more fish in that session, but that hardly mattered
.
We then headed back off to Cian's shop in Tramore
Absolute Fishing
for a warm welcome, and a beautiful cup of Tea. While we were sat there telling tales, and dribbling over shiny things, Henry Gilbey walked in with Andy & Nick. Now if you are 8yrs old, and have just nailed your pb Bass, that's what you call good timing!! Luke showed the guys his pics & vids from the morning, and was as proud as punch!!
On Saturday morning, I was picked-up at early-O'clock by a couple of Irish Commando's (Pat Connolly & Alan O'Neill). We headed down to Pat's boat, and were met by 'The King'. John 'The King' was our skipper for the day. We loaded-up the boat, and left bang-on schedule at first light . . .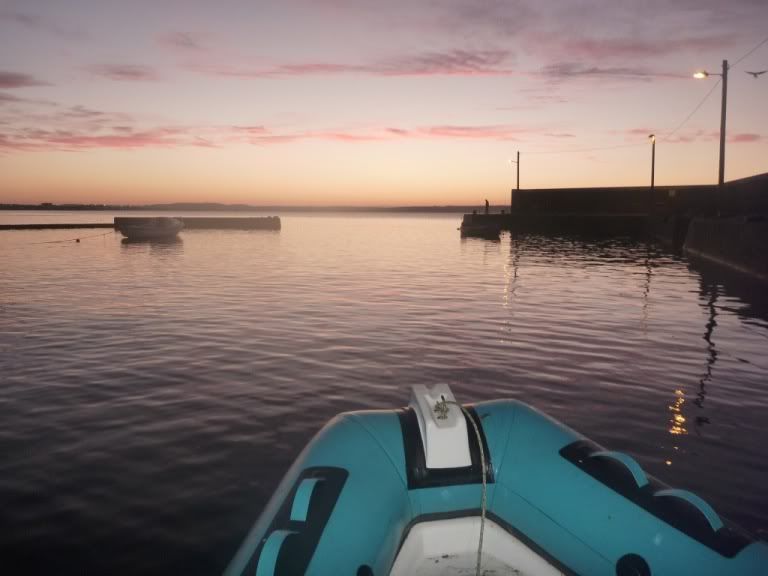 It was a dash along the Copper Coast to our destination . . .
The video is a bit wild, but it gives you a flavour of the ride across that morning . . .
On arrival at our first mark, spirits & confidence were high, and we couldn't get lures into the water fast enough. A few casts, a clunk, "FISH ON"!! I was first in, and about to win the €1 off each of them, but the stripy green back meant one thing . . . Macky!! Damn!! It was a big'un, but not what we were after. A few more drifts, and Alan was into the first Shirley. Pat declared it as being the smallest Shirley he'd ever seen from that location, and smaller than my Macky, but nevertheless, it was a Bass!!
Then, just as Alan's lure approached the boat again, it got hit . . "on", "off", damn !! 2 seconds later, & my Baby Pachinko got nailed at range!! "FISH ON"!! After a very spirited fight, I got a 4lb'er aboard . . .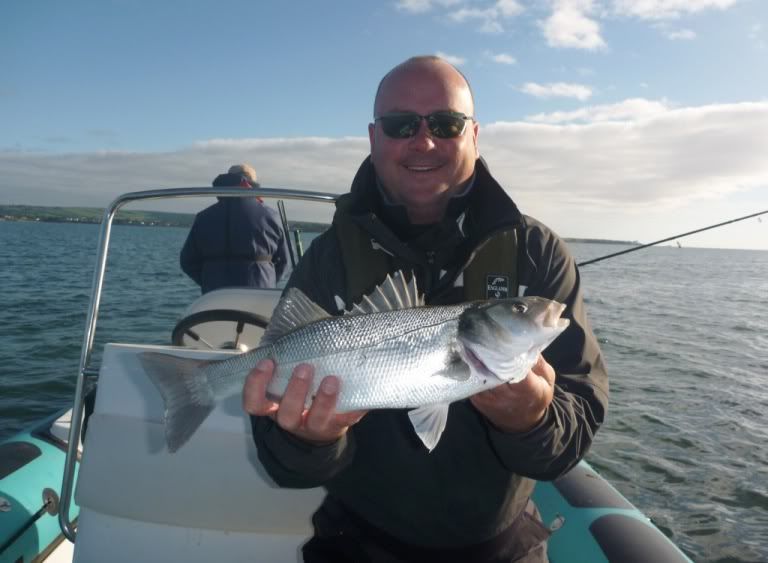 Then, everything went quiet again. So then a magical moment, as Alan reached into his bag, and pulls out a big glass plate of meat!! WTF!!! Pork Ribs, with a bit of cabbage apparently :shock:. So the 4 of us are sat there, out in the Ocean, chewing & sucking on the most beautiful tasting bones you've ever known
. Apparently these lads were raised on these, which would explain a lot
. Even 'The King' indulged after initially resisting
.
Pat (Chief Health & Safety Officer), enjoying a quick break . . . .
Alan
(Chief Tactical Officer, and Ship's Cook) . . . .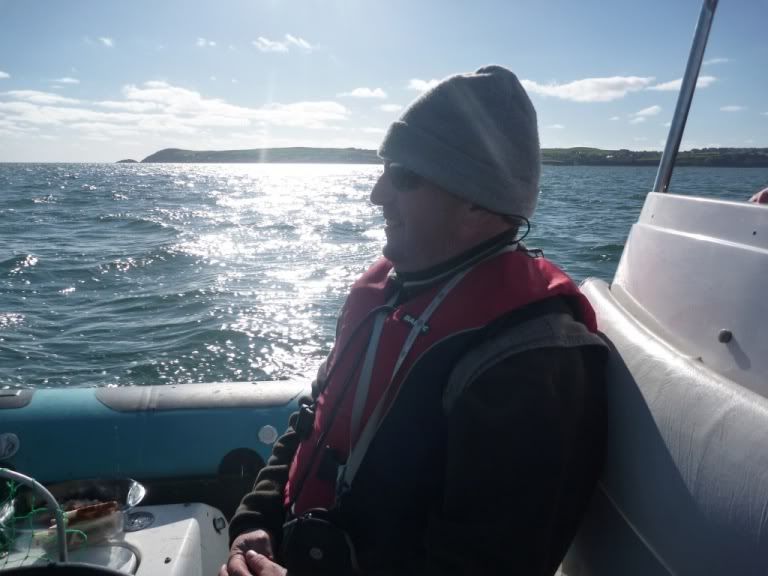 The 'King' . . .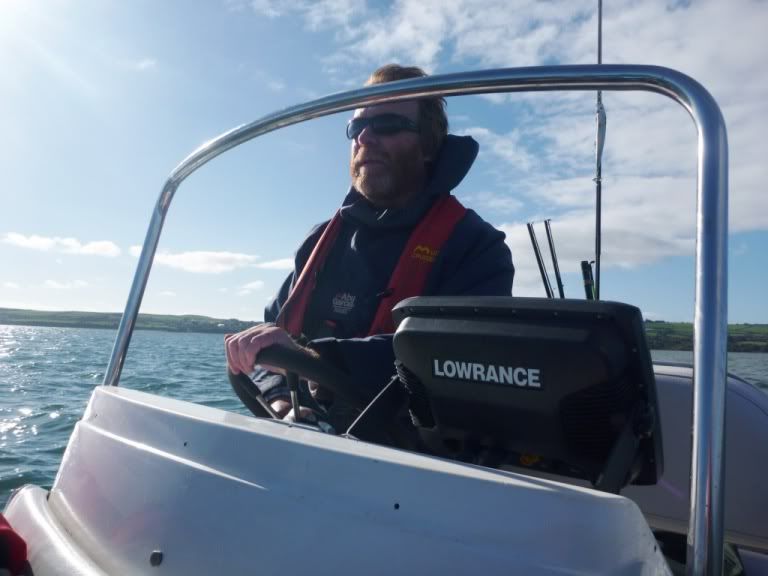 The next move was across onto the shore, where Pat, Alan & I were dropped-off for a short shore session. Here you get to see the finest Boat on the South Coast . . . .
Nothing landed off that mark, albeit we did see the magnificent sight of a HUGE Salmon or Sea Trout (we couldn't quite make up our minds which), hurtling out of the water just out infront of us!! What a fish!!
So the boat came back for us, and we powered back along the Copper Coast. We stopped off at any lump of rock that looked 'fishy', but the calm seas didn't seem to have the 'Fizz' required to make things kick-off (although, it was mighty-fine for a poor sailor such as myself, as I felt tip-top all day
).
On the trip back along the coast, we landed countless Mackerel, and a load of Pollock, but the Shirley's were just not coming out to play. The scenery was simply breathtaking though!! What a stretch of coast that is. I'd have gone along on that trip for the scenery alone. I'd have gone along for the Craic alone. I'd have gone along for the fishing alone. You put all that together, and it's an experience I'll never forget!!!
Alan and I were out for another dawn raid yesterday, but the conditions were just too settled, and even the birds were quiet. We did both miss a chance each, but it wasn't to be.
I really can't thank Pat & Alan enough for their hospitality. I was treated like an old friend by them – you'd swear we'd known each other for years. It means so much to find such wonderful companionship when you are on foreign lands. Top top top quality people. I can't wait to head back over and fish with you lads again.
For Luke, hopefully it'll be a trip he'll never forget either, as it was a magnificient fish that he caught & released.