Been thinking alot about this straight tail v's paddle tail thing.
Just to say before I go any further that, I personally don't think it makes any difference and its all just down to confidence.
However........
I've had... I'd say 80% off my wrasse on small paddle tail baits (2" - 4"). DOA, One up Shads, Bubble Shads, Bass Assassin etc... the list goes on!!
Now recently I've been going fishing with a few other guys. Now Daniel and Ben had never wrasse fished before with s.p's, so they asked me to help them get started on what baits they needed. Now I'm no expert and can't talk all the science that some talk about fishing. All I could do was advise them on what works for me.... So I did. Paddletails...
So with that confidence of mine, it gives them a small amount of confidence to get them started. As a result... they catch fish.
I've heard people say that, yes you do catch on paddle tails but as its a moving lure its usually smaller fish. As there more aggressive and get there first before the big ones? So I had a look back through my photos to get a range of the fish we have had on moving and deadstick paddletails only! They range from 1/2lb to 5 1/2lb.
I have a slightly larger, aggressive sister by the way and I know if there was ever nice food in my house, when I was growing up, she would get there first and if I tried to get the doughnuts off her then she would become aggressive and win
I'm not saying you don't catch good fish on straight tails either by the way. As Luke, Mark, Dave and MANY other have proved you do. I've had them on straights too. However I want people to know that paddletail softies are just as good!!
I just wanted to maybe give people a bit of confidence when it comes to paddles from wrasse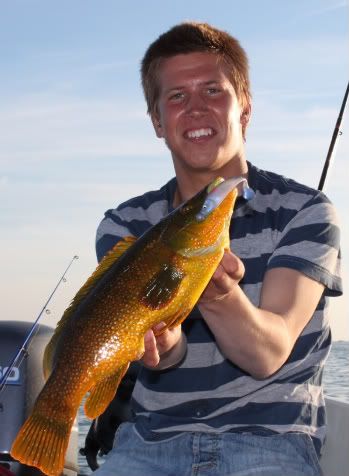 REMEMBER - CONFIDENCE IS NINE TENTHS OF THE LURE