Thought I'd add my notes and a few pics from our weekend which I can say was even better than last year. I guess more friends off the Forum attending and the anticipation after last year's event made this a special weekend for "Team Griffin". After setting camp at Pebble Banks and meeting a bunch of Lure Forum people we headed into town to register (boy the traffic was bad - we parked halfway and walked the rest!). We met heaps of people and had a good chat over at the shop. I decided that as George wasn't eligible for the main competitions, I would stick a fiver in the optional Wrasse pool for him even though he had only ever caught one wrasse on a lure before (on his birthday last month) - more on that later!
Despite trying to be a bit more creative in my thinking for a first mark but we ended up at the lighthouse for an evening session with half the competitors it seemed. The car park was like the ShoutBox, just with faces to put to names. We fished hard, but I never really felt confident. I was pleased to see a few others get their jitters over and get a fish on the rocks, but not for us sadly. We then headed back to town and as Si Lewis has reported we had an evenings entertainment in town (chips, beer and LRF!) before hitting the hay. The weather deteriorated overnight and after a rough night in the tent we opted not to rush out on Saturday. When we arrived at our chosen mark there were many familiar faces and we had a good social fishing session in some rough conditions. I landed a small bass which made me very happy, but when I hooked a much better fish as I was chatting with JonB it all went wrong. After a solid hit and some big head shakes, the fish came up to the surface and thrashed about, throwing the lure. My drag was too tight and hadn't yielded to the fish at all. B**er! I am not saying it was a winning fish, but it would have put me in the prizes I reckon! Oh well - bad angling I guess
George landed a scrappy little pollack,
Andy Wilson had a schoolie off the top, and Dave Irving moved a good fish off the top, so we saw a few fish.
We took the afternoon off, and the weather duly improved. In the evening we were lucky to join in a group that went wading into darkness in some new and some familiar areas. I managed another schoolie as did Dave, and a few mackerel were landed, but by 10pm we were ready to quit as the results were not matching the effort.
We set out on Sunday after most anglers but arrived at a good time of tide and started working up the beach plugging away for the bass. George in his wisdom decided that dangling an Xlayer between some boulders on a breakwater may yield a wrasse so he got down to business. Within a few casts he had a little fellow up on the rocks. I decided to measure it just in case no-one else declared a fish, but I needn't have worried. The first 29cm fish was followed by a 38cm fish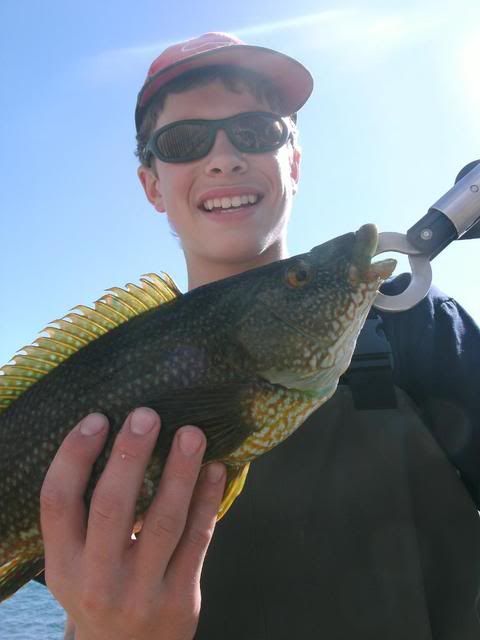 I was experimenting with other soft lures but it was the Emeraude Xlayers that **** Ward had bought across from Jersey that they wanted (I think it's all about the rattle). We fished on, having a cracking laugh with loads of missed bites, when the little Bushwacker keeled over in George's hands and the reel started singing with the fish a good way out. "Don't lose it, George - this one could win you the pool!" or words to that effect from me. I needn't have worried :-D. The fish was landed in style after a proper scrap, measured at 41cm, photographed and returned. Just check out the bars on the fish - like a perch!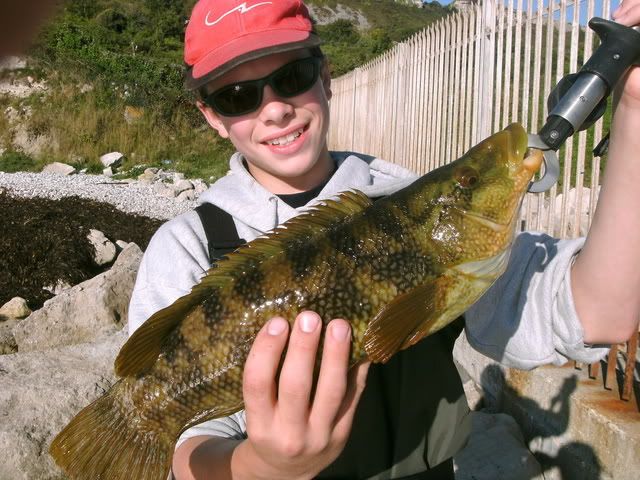 Estmated at 4lb this was a new PB Wrasse for George, and we decided that as I couldn't catch one we would go bass plugging up the beach. With me on the Feed Shallow and George on the Duo Tide Minnow 145sld we fancied a bass now as conditions seemed right. After only 100 yards or so of beach I had a follow right to the shore. As the fish turned and flicked it's tail I realised this was in fact a decent dark wrasse over very shallow ground. Weird - wrasse chasing plugs? This was new to me. I had no sooner turned to tell George than I saw him bend into what was clearly a very good fish which I (wrongly!) asssumed must be a decent bass as he had a big long plug on, rather than a soft lure. George was yelling for help and I fair skipped over the boulders to his vantage point (he was fishing off the top of a big boulder and look what I had to run across!)).
It transpired the fish had taken him to ground behind a big rock ledge about 5 yards out and as he was fishing braid straight through he daren't risk bullying it out and I was
informed
that
I was to wade in (!)
and free the fish. Great - deep water, slimey boulders and an angry fish likely to cut him off, and it would no doubt all be my fault if we didn't land this fish :???: I took off my bag & jacket and waded gingerly out to where I could reach the line and carefully followed it down behind the rock. As soon as I touched the fish, it roared out into open water and was landed without too much further incident. This one was not only longer at 43cm but way, way fatter than the last one and had taken a plug to boot!
By now I was thinking he had a very good shout for the wrasse pool money, but didn't dare hope too much in case of disappointment So after we had calmed down we worked our way to the point where I had dropped the good fish the day before. I was chatting to him when his rod went over again, line tore off the reel then nothing. Naturally he blamed me for "distracting" him (aren't kids generous??) - but when he retrieved the lure, he found the rear treble and hanger had been ripped clean out of the DTM 145 that had recently bagged his big wrasse. So now George has another "one that got away" story to tell. Bass or wrasse I have no idea, but it was a seriously good fish.
Once the disappointment had worn off, we went back to the wrasse hotspot where I was allowed to catch (A SMALL) one,
but only at the expense of George catching another fish :evil:
A 5-1 drubbing had been handed out to me, so it was time to head back. We fished the ledges in the afternoon, but we had missed the best of the tide. We had a few taps and knocks, but no fish so decided we would just have to hope George won the pool with the fish he had in the bag.
It turned out that George was lucky enough to win the pool and I was the proudest man in the room when he collected his prize. He got an almighty cheer as well which was very touching. Everyone was very supportive of the young man and it was quite amusing to see him showing Mike Ladle the pictures and telling him how he had caught 5 wrasse that morning on a soft lure! To add insult to injury, I gave George the 5 strips of tickets I bought on the raffle, and he won first pick :-o Thanks to Ben Field and the Art of Fishing for the generous prize. I steered clear enough of the beer to allow us a quick session back at the hotspot before we went home on Monday morning, and using the lures Simon had kindly gifted George we managed another 9 fish between us in just over two hours. The "secret" goo that PaulB donated to George also helped when bites slowed down, so thanks again Paul! No surprise when I tell you that George had 5 fish to my 4, and the bigger fish too!
Oh, and look out when you try this (and you must - it's a blast) - wrasse have teeth and your lures can take a hammering!
Well done Mike for organising a great weekend - see you next year (both of us that is!)