·
CoFounder & Retired Admin
Discussion Starter
·
#1
·
Forum member Nev Broad popped over to Jersey again last week, its Nevs third trip to the island and we always manage to find a few fish whilst he is here. Nev usually fishes for the mackerel and gars etc with his fly rod, and had some fun with the mackerel and pollack on the end of Boulay pier this trip, having pollack galore. He recons he could see some pollack to about 4 or 5lb but couldnt get through the sm,aller fish to get his fly down to the bigger ones.
Anyhoo, on friday I showed him Lukes picture with the big Wrasse, he was surprised, and then I told him it was on a softie and his eyes really opened. "Which softie?" he asked, my reply was the same as it ever is when people want to catch wrasse on a softie, "Wrasse will take most if not all softies, but for some reason they absolutely love Xlayers".
So off we go armed with his new Xlayers. Within 5 minutes he had a fish on, and I was surprised to see a beautiful little bass of about and pound and half or so come tearig around the boat, Nev was using a small bait cater reel and rod that he had bought from Bass Pro in the states, it really di put a bend in it.
Anyway we were not far away from wrasse central, the place that when I was into my snorkeling as a kid I saw wrasse that looked like goliath groopers they were so big. With the wind making then drifts almost impossible we bumbles along a reef, then Nev gives out a "Hang on somethings grabbed this" and I look around to see this baitcasting rod bent like a tank arial!! Up comes this creature from the black lagoon, a wrasse that almost looked black it was so dark. The ground below was thick dark brown kelp, once again the rasse matched its background perfectly. Does the wrasse adapt to its back ground or does it search for cover that is the same colour as itself?
Anyway, here is Nevs first ever wrasse on a sp, we decided on 6lb as it was bouncing from 5lb 14oz to just over the 6lb mark. Nice opener, shame he isnt in the piggy bank challenge!!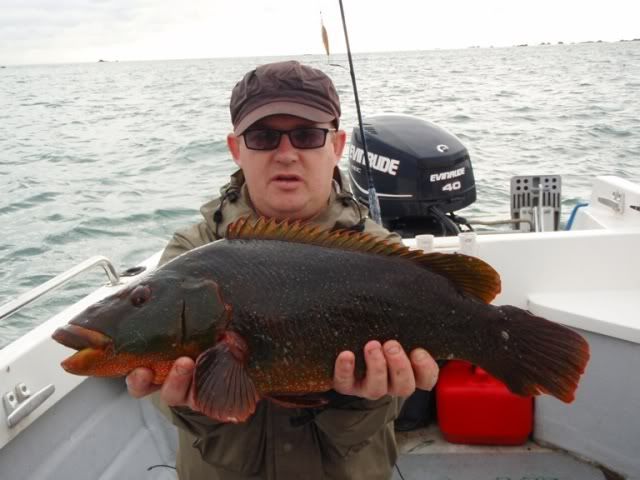 I managed a few bass on my new secret weapon for Weymouth, tested it good and proper with maybe 3 or 4 small bass and a nice one of 3lb or so. The lure is good, it does what I wanted it to, Weymouth watch out!!